SEL Digital Class Packs

Prepared digital SEL lessons and activities for schools to use with their students. Class Packs also include teacher tips and best practices to support teachers. Plus the elementary school Packs (K-5) include a Spanish student version of every lesson!
Activities now in both languages!
Class Packs focus on the CASEL competencies + SEL topics including:
Emotional Awareness & Management
Confidence & Growth Mindset
Diversity, Equity, & Inclusion (DEI)

Each Classroom SEL Pack is grade-specific and includes:
Teacher tips, discussion questions, & best practices
SEL lessons to use as an e-lesson or printable
Student-centered with real-world applications
Arranged by themes for consistent, school-wide learning
SEL DIGITAL School-wide sOLUTION
SEL CLASS PACKS ARE AVAILABLE FOR STUDENTS K-12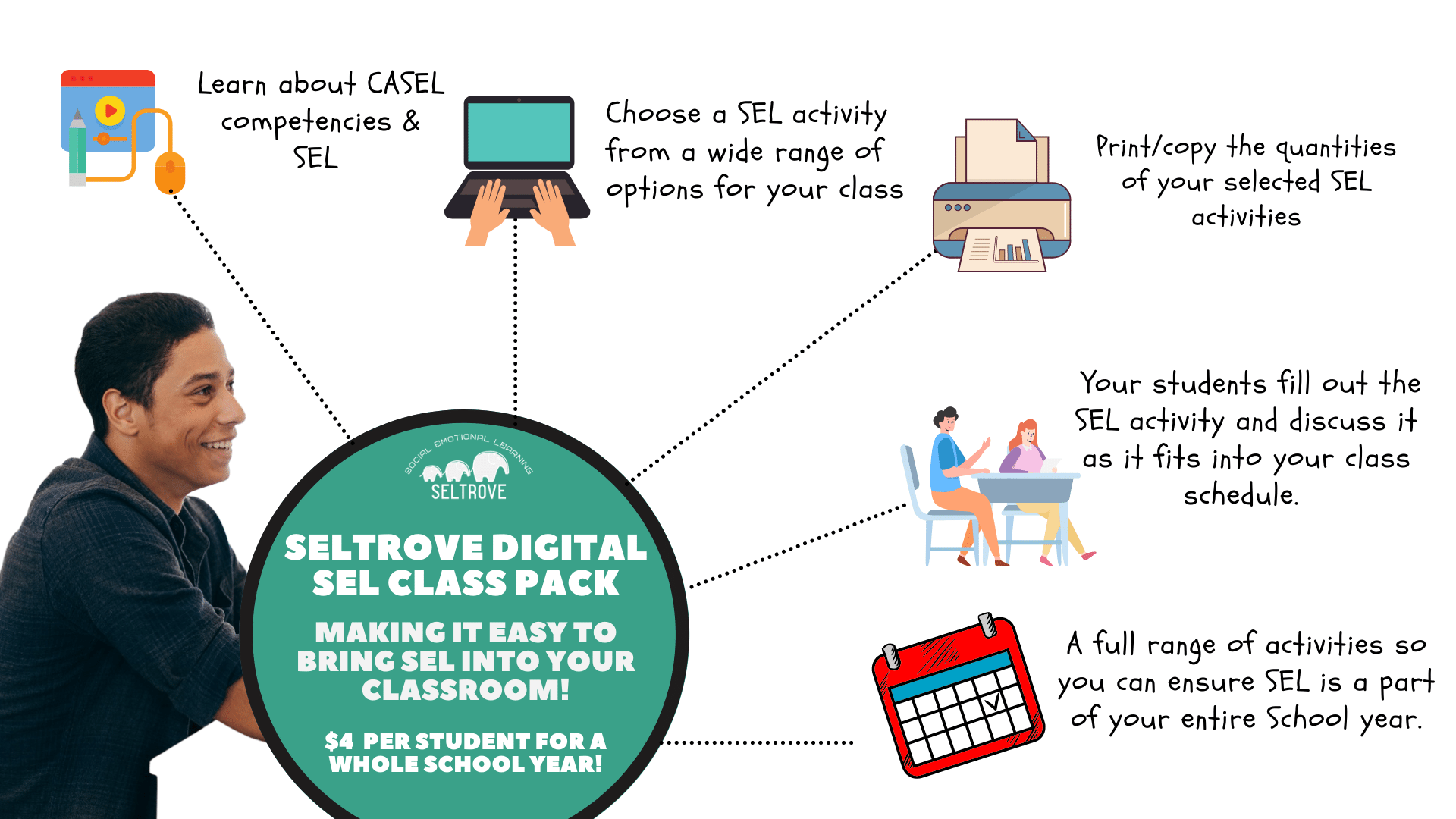 SEL DIGITAL CLASS PACK PRICING:
The purchase price for a single school varies according to the size of your student enrollment. For district purchases, pricing varies by the number of schools and is at a higher discounted rate. Contact us to discuss options.
CHOOSE THE NUMBER OF STUDENTS AT YOUR SCHOOL AND CONTACT US TO SUBSCRIBE:
SMALL
SCHOOL
Schools with less than 500 students
MEDIUM SCHOOL
School with 0-1000 students


LARGE SCHOOLS & DISTRICTS


WANT A CUSTOM SOLUTION?
We are happy to discuss custom options for your school to fit a solution that is within your budget, enrollment numbers, and more!
A Seltrove team member will contact you shortly.
30% discount offer!
Click the button to make this offer yours! Limited-time only!
THIS Way!
Are you a CPS School?
Click the button to access customized offers and special prices!